Rolls and bags of uncirculated 2022 Wilma Mankiller quarters launch today at noon ET, appearing as the third unique coin from the United States Mint's American Women Quarters™ Program.
| | |
| --- | --- |
| US Mint image of a 2022 Wilma Mankiller quarter and P, D, and S rolls of them | US Mint image of a 2022-P Wilma Mankiller quarter and and a 100-coin bag of them |
Made for collectors, uncirculated coins are produced with more care than regular coins struck for circulation. (Circulating Wilma Mankiller quarters started shipping last week to Federal Reserve locations for distribution into circulation.)
All carry the same reverse (tails side) design honoring Wilma Mankiller, the first female principal chief of the Cherokee Nation. While serving as principal chief, the nation saw enrollment triple and employment double. In addition, health and children's programs were expanded. Mankiller was also a respected activist for Native American and women's rights.
Wilma Mankiller Coin Designs and Specifications
The quarter's reverse (tails side) was designed by Benjamin Sowards and sculpted by Phebe Hemphill. Sowards created the image to show the wind at Mankiller's back while wrapped in a traditional shawl. To her left is the seven-pointed star of the Cherokee Nation.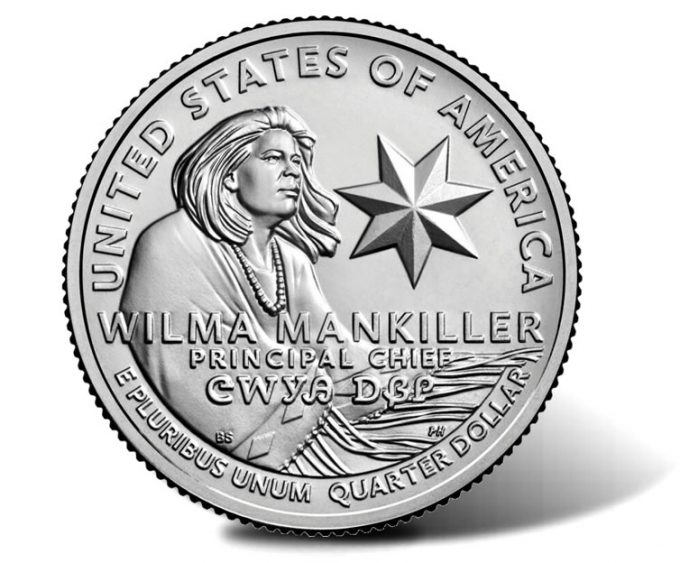 A larger image of the reverse or tails side of an uncirculated Wilma Mankiller quarter
Reverse inscriptions include UNITED STATES OF AMERICA, E PLURIBUS UNUM, QUARTER DOLLAR, WILMA MANKILLER, PRINCIPAL CHIEF, and the Name of the Cherokee Nation written in the Cherokee syllabary.
All coins of the four-year series share the same obverse (heads side) portrait of George Washington. This historical likeness of the first US President was originally created many decades ago by Laura Gardin Fraser as a candidate for the 1932 quarter dollar celebrating the bicentennial of Washington's birth.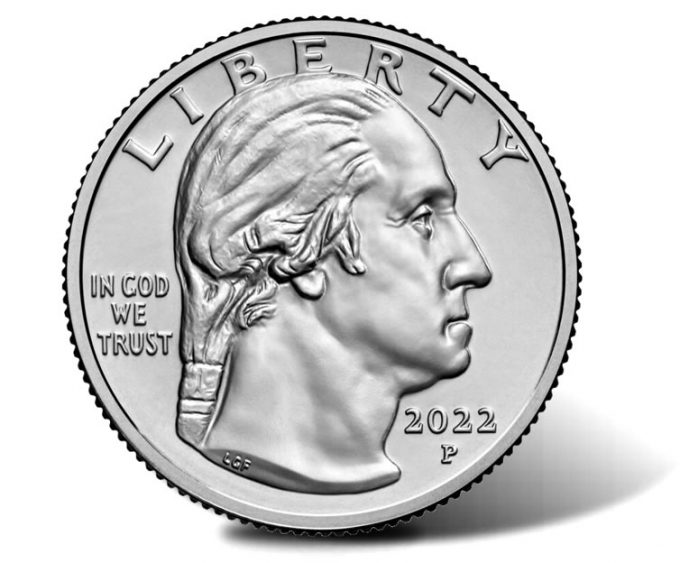 Image of an obverse or heads side of an American Women Quarter. The design is common across the quarters in the four-year series.
Obverse inscriptions include LIBERTY, IN GOD WE TRUST and 2022.
Quarter Specifications
Denomination:
Quarters
Finish:
Uncirculated
Composition:
8.33% nickel, balance copper
Weight:
5,670 grams
diameter:
0.955 inches (24.26mm)
edge:
reeded
Mint and Mint Mark:
Philadelphia—P
Denver-D
San Francisco-S
Private Mark:
None
Products and Pricing
Four options are available as part of this new quarter dollar release:
Wilma Mankiller 100-Coin Bag (P) for $40
Wilma Mankiller 100-Coin Bag (D) for $40
Wilma Mankiller 2-Roll Set (P&D) with 40 coins per roll for $36
Wilma Mankiller 3-Roll Set (P, D & S) with 40 coins per roll for $54
Philadelphia, Denver, and San Francisco Mints produced coins indicated by the P, D or S.
ordering
Rolls and bags of Wilma Mankiller quarters may be ordered directly from the US Mint's online catalog of American Women Quarters.
US Mint's American Women's Quarters™ Program
Congress authorized the American Women's Quarters Program under Public Law 116-330. A total of twenty quarters will appear in the series over four years at a rate of five per year. Each will celebrate the accomplishments and contributions made by women to the development and history of the United States.
The 2022 honorees are:
Maya Angelou – noted author and poet
dr Sally Ride – physicist, astronaut, educator, and first American woman to soar into space
Wilma Mankiller – first woman elected principal of the Cherokee Nation and an activist for Native American and women's rights
Nina Otero-Warren – a leader in New Mexico's suffrage movement and the first female superintendent of Santa Fe public schools
Anna May Wong – first Chinese American film star in Hollywood, who left a legacy for women in the film industry
Maya Angelou quarters debuted on Feb. 7 and Dr. Sally Ride quarters launched on March 22. Quarters depicting Nina Otero-Warren and Anna May Wong will be issued later this year. (See images of all the 2022 quarters.)
In addition to these rolls and bags, the US Mint earlier issued a proof set and a silver proof set containing this year's quarters. Both sets sold out. Special ornaments holding each quarter are scheduled for release on Aug. 26.
Article Source : https://www.coinnews.net/2022/06/14/wilma-mankiller-quarters-available-in-rolls-and-bags/