Skinner Auctioneers is hosting an online auction of Coins & Currency through April 6, 2022. The sale's featured hundreds of lots all derive from the estate of a New England antiquarian who amassed a formidable collection of coins in the course of over 70 years.
1891-CC Liberty Head Eagle, MS-62 (Lot 1194). Courtesy of Skinner Auctioneers.
This auction includes mint products from the early to modern United States, including certified coins, nickels, dimes and half-dimes of rare and exceptional quality. It is the first in a series of auctions showing the complete holdings of major collector of American coins, with nearly every item represented in The Red Book.
The accumulation of a devotedly personal collecting hobby, which is itself a time-capsule of the priorities and practices of the American coins market over the past several decades, Skinner's auction is a bounty of fine specimens of historical currency — a broad field, loaded with many hidden gems.
Exemplary of the collection's quality and care is an 1891 Carson City Liberty Head Eagle of Near-Mint Condition (est. $1,500-2,500). This $10 gold piece was one of the largest denominations available to the public at the time, minted in extremely limited runs and largely circulated between banks. Its rarity is compounded by its Carson City provenance, a short-lived US mint that epitomized for many the hopes and harmonies of the American West. Skinner Coins Specialist David Donahue notes that a preponderance of special Carson City coins will be featured in this sale alongside this eagle.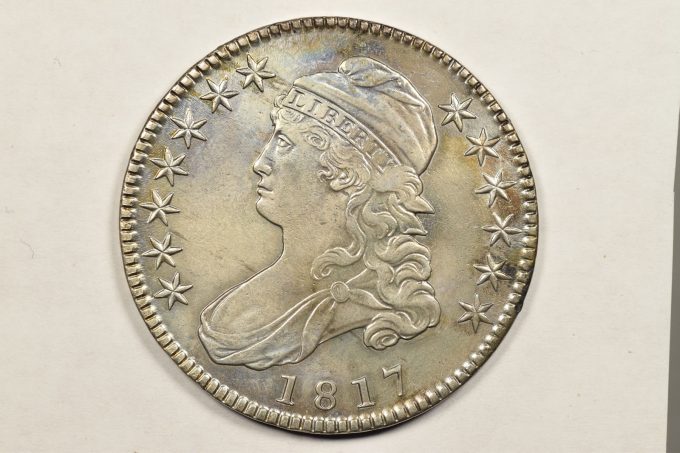 1817 Capped Bust Half Dollar, About Uncirculated (Lot 1050). Courtesy of Skinner Auctioneers.
An 1817 Capped Bust Half Dollar, Choice Uncirculated (est. $500-800), epitomizes the great care and sharp eye characteristic of this fine collection. The obverse capped bust of Lady Liberty, long a collectors' favorite, and the rearing eagle on reverse each bear an exemplary level of detail and quality, notwithstanding the 205 years since this coin was initially struck. With many fine details hand-punched into the dies, this is an ideal coin with which to study the minute variations and detail-work of the iconic capped bust. Once the most-circulated large silver coin of its day, the quality of this lot at auction is a rarity and a special occasion.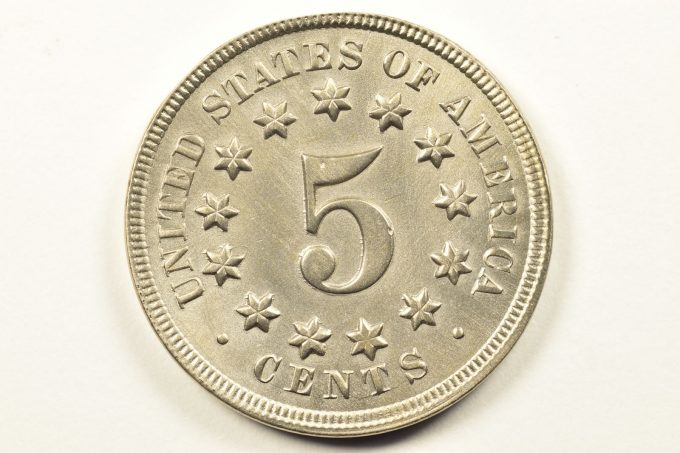 1868 Shield Nickel, Missing Leaf, MS-65 (Lot 1027). Courtesy of Skinner Auctioneers.
An 1868 "Missing Leaf" Shield Nickel, Gem Uncirculated (est. $300-500) is another widely cherished coin for its signature idiosyncrasy — an olive leaf missing from the engravature around the Shield of Liberty on the obverse. This coin is still in such fine condition as to allow for the study of its several die cracks.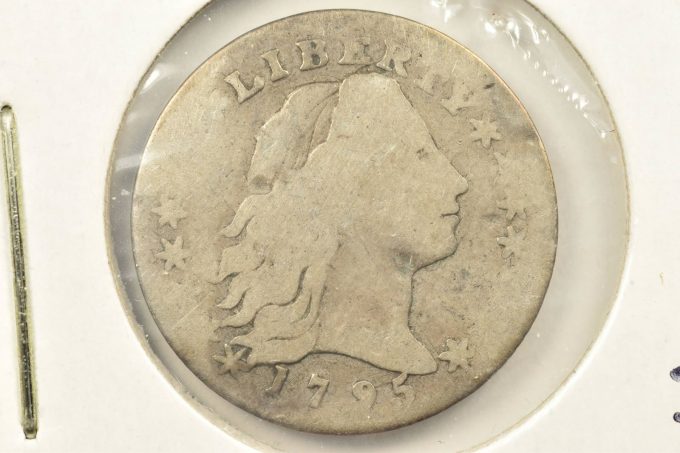 1795 Flowing Hair Half Dime, Good (Lot 1030). Courtesy of Skinner Auctioneers.
The collection goes back to the late 18th Century, with a 1795 Flowing Hair Half Dime, Good (est.$600-900) as an early representative example. One of the first silver coins that the US Mint put out, the half dime had a limited mintage to begin with, making for even fewer survivors today. The flowing hair of Liberty represents one of the first federally authorized depictions of her.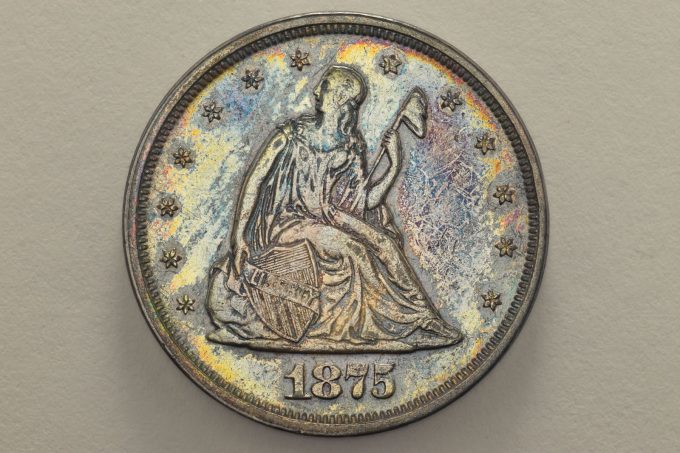 1875 Twenty Cents, Extremely Fine (Lot 1038). Courtesy of Skinner Auctioneers.
Additionally, two 1875 Twenty Cent Seated Liberties, Semi-Prooflike/Extremely Fine (est. $250& $350, respectively), gesture at the unfixed nature and history of numismatics itself. Seen here with different levels of eye-catching toning, these coins were stored for several decades in paper envelopes, the acid of which altered their faces into lustrous, ruddy hues. Made for only two years and discontinued due to their resemblance to the quarter, and having now outlived the period in which cleaning and polishing were common in archival treatment, these Seated Liberties are emblematic of the long and winding road of history and its preservation over time .
About Skinner
Skinner attracts top consignments and commands record-breaking prices in the international auction marketplace. With renowned expertise and extraordinary service, Skinner is the place for buyers, sellers and the passionately curious. Skinner appraisers are familiar faces on PBS's19-time Emmy Award-nominated ANTIQUES ROADSHOW. Visit us in Boston, Marlborough, New York, Maine, Florida, or online at https://www.skinnerinc.com.
Article Source : https://www.coinnews.net/2022/04/04/skinner-hosting-major-coins-currency-auction-through-wednesday-april-6/