Today, Feb. 23, the United States Mint started selling Rhode Island American Innovation dollars, the first of four program coins to appear in 2022. Available products include 25-coin rolls and 100-coin bags containing the dollars in an uncirculated finish for collectors .
| | |
| --- | --- |
| US Mint image showing a roll of 2022-P American Innovation Dollars for Rhode Island | US Mint image showing a bag of 2022-D American Innovation Dollars for Rhode Island |
These Rhode Island dollars continue the Mint's American Innovation® $1 Coin Program which dates to a single inaugural strike in 2018. Since then, four unique dollars have appeared annually with each design honoring American innovation and ingenuity from a different state. In addition to this release, 2022 American Innovation coins will celebrate innovation from Vermont, Kentucky and Tennessee.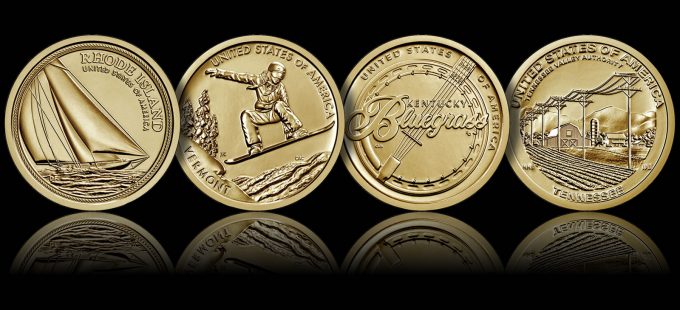 Images of the four 2022 American Innovation dollars — Rhode Island, Vermont, Kentucky and Tennessee
Authorized under American Innovation $1 Coin Act, Public Law No: 115-197, the series will continue through 2032 by which time all 50 states, the District of Columbia and the five US territories will have been represented.
Designs for the Rhode Island Innovation Dollars
Nathanael Herreshoff's famous Reliance yacht sailing the water appears on the reverse (tails side) of the Rhode Island dollar. The yacht was built in 1891 and incorporated numerous technical innovations.
2021 Uncirculated Rhode Island American Innovation Dollar (Reverse Side)
The maritime scene is bordered by a rope completing the nautical design. Surrounding inscriptions include "UNITED STATES OF AMERICA" and "RHODE ISLAND." The image was created by United States Mint Artistic Infusion Program (AIP) Designer Dennis Friel and sculpted by Mint Medallic Artist Phebe Hemphill.
This US Mint image shows the obverse and edges of 2022 American Innovation Dollars
All coins of the American Innovation series bear a common obverse (heads side) image of the Statue of Liberty along with inscriptions of "IN GOD WE TRUST" and "$1." This design is the work of Justin Kunz. It was sculpted by Phebe Hemphill.
Since 2019, obverses also carry a privy mark of a stylized gear representing industry and innovation. The gear's depiction has been unique each year.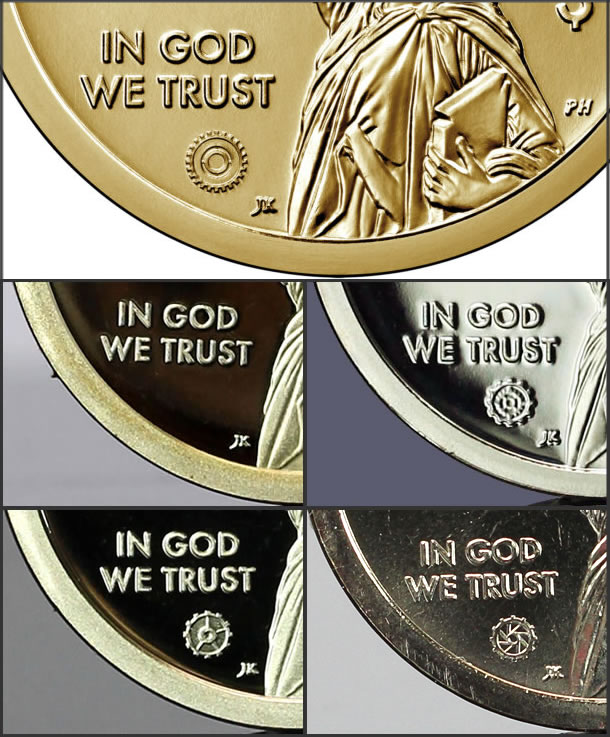 The obverse of the introductory 2018 American Innovation dollar has no privy mark. Since then, a privy mark of a stylized gear has appeared. Each year, the gear depiction has changed slightly. [Shown: Close-up of this year's privy mark design and then dollars from 2018, 2019, 2020 and 2021.]
Incidented on the edge of $1 coins is the year of minting, a mint mark representing where they are produced, and "E PLURIBUS UNUM."
Prices and Ordering
Each 25-coin roll may be purchased for $34.50 while a 100-coin bag sells for $117.50. Buyers can choose between dollars produced at US Mint facilities in Denver or Philadelphia.
Orders are accepted from the US Mint's online store for American Innovation products.
Article Source : https://www.coinnews.net/2022/02/23/2022-american-innovation-dollars-for-rhode-island-released/